Sol Luckman
Today I'm writing with the great pleasure of offering readers the gift of mischievous laughter this holiday season!
"Irreverent in its honesty and take-no-prisoners approach, THE ANGEL'S DICTIONARY: A SPIRITED GLOSSARY FOR THE LITTLE DEVIL IN YOU is an honest appraisal of words in terms of today's sensibilities. Sol Luckman has picked up where writers like Mark Twain and Ambrose Bierce left off over a century ago, identifying new associations for words and phrases to match what they really represent today […] They say many a true word is spoken in jest, and perhaps Luckman's humor is a well-timed wake-up call to be heeded while we still have time to ask important questions." Readers' Favorite

Here are some sample entries to tickle your fancy …
antidepressant: (n.) any of various energetic techniques for warding off parasitic friends, colleagues, and family members.
bathroom: (n.) where Americans go to argue about gender while the country goes down the toilet.
census: (n.) being counted so we can be discounted.
Dowist: (n.) blind believer in the stock market.
fanny-pack: (v.) to put on a few extra pounds during the holiday season.
global warming: (n.) result of excessive hot-air emissions by climate scientists.
hospital: (n.) where the healthy go to get misdiagnosed and the sick go to get mistreated.
To browse a selection of T-shirts and other merchandise featuring witty quotes from THE ANGEL'S DICTIONARY, click here.
To receive your complimentary copy of THE ANGEL'S DICTIONARY, visit …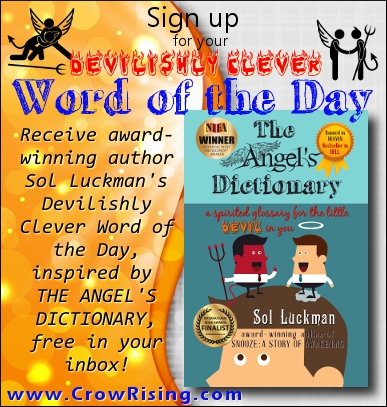 Thanks for reading—and have a joyful, healthful and prosperous holiday season and 2018.
Copyright © Sol Luckman. All Rights Reserved.
Inspired by this post?
Donate bitcoins: 14ptJHFnNTxRnm757CxAWFtXfggy8BpwHG
Sol Luckman is a pioneering ink painter whose work has been featured on mainstream book covers and award-winning author whose books include the international bestselling CONSCIOUS HEALING and its bestselling sequel, POTENTIATE YOUR DNA. His visionary novel, SNOOZE: A STORY OF AWAKENING, winner of the 2015 National Indie Excellence Award for New Age Fiction, is the coming-of-age tale of one extraordinary boy's awakening to the world-changing reality of his dreams. Sol's latest book, THE ANGEL'S DICTIONARY: A SPIRITED GLOSSARY FOR THE LITTLE DEVIL IN YOU, winner of the 2017 National Indie Excellence Award for Humor, reinvigorates satire to prove that—though we might not be able to change the world—we can at least have a good laugh at it. Then again, maybe laughter can transform the world! Learn more about Sol's art and writing at www.CrowRising.com.